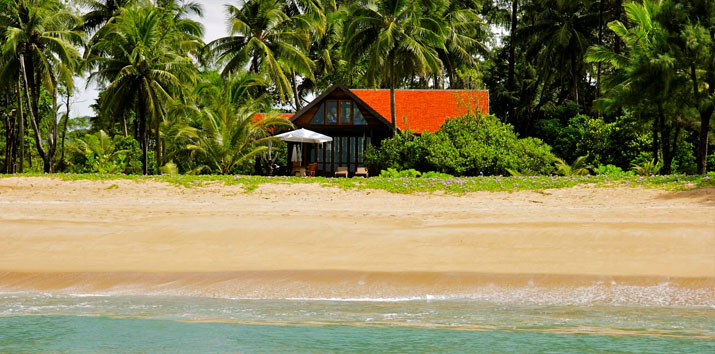 Frequently Asked Questions
Travel To Golden Buddha Beach
On what island is Golden Buddha Beach?
Koh Phra Thong.  Please see this link for our location on Google Maps
How do I get to Koh Phra Thong?
We are not close to Bangkok. Most of our guests fly to either Phuket International or Krabi from Bangkok and book private transfers with us from here. If you need to arrive in Phuket later in the day, we can recommend accommodations in Phuket or have a car bring you to Kuraburi for an overnight stay.
Can I get to Golden Buddha without taking a private transfer?
To save time and for convenience we recommend you take a private transfer. It is possible to take local transport. For example you can take a "Super VIP bus from Bangkok's south terminal at around 7pm and arrive in Kuraburi at around 6am for approximately 800 baht. In addition there are many buses running north and south along the Andaman coast that pass though the town of Kuraburi. For more information about how to get to Golden Buddha please contact us
What airlines serve to Phuket from Bangkok?
The most convenient for international guests to book on-line are:
What is your latest pick up time from Phuket International Airport to arrive at Golden Buddha on the same day?
Normally, our latest pickup in Phuket is 13:30 (1:30 PM). However, as a convenience for our guests, we can arrange transportation to the island for flights scheduled to arrive between 13:30 – 16:00 at a surcharge of 1000 baht per group.
What is the earliest I should arrange onward flights from Phuket International Airport after checking out?
Ideally after 1.30pm (13.30)
How long does it take to get from Phuket International Airport to Golden Buddha Beach?
4 – 4.5 hours (2.5 hours by taxi and 1.5 hours by long tail boat)
Does your private transfer car have a child's seat?
We use local people from Kuraburi town for our transfers. Please let us know in advance if you would like a car that has a child seat so we can arrange this with our local suppliers.
How much does transportation cost?
Please see full details of all our transportation prices on our Transport Costs PDF
A longtail boat, one-way, between Kuraburi pier and the resort is 2000 THB
Departures from the pier after 16:00 (4pm) - require 1000 Baht surcharge per boat as you must go to the Tapayoi village on the east side of the island and then we use a 4×4 truck to come to the resort.  Travel on the waterways is not safe in the dark.
A low fuel consumption private car can be arranged from various locations in southern Thailand.
Where can you recommend I stay near to Phuket Airport for a late arriving flight or final day before flying home?
There are 3 very different hotels that many of our guests have stayed in near Phuket Airport without complaint.
Can you help me to arrange my onward travel?
Yes. Please us know your continuing travel plans as soon as possible.  We prefer to arrange smooth and non-hurried departures.  Please do not schedule flights from Phuket before 1pm.  If you need additional travel arrangements within Thailand, please ask us for assistance.
Where can you recommend I stay on the mainland before arriving at Golden Buddha Beach?
Kuraburi is the closest mainland coastal town to Koh Phra Thong Island. It is currently unaffected by the wave of foreign tourism that has spread across Thailand and remains largely unexplored by westerners. This is unfortunate as Kuraburi is a truly delightful town with lots to offer the intrepid traveller.
There are a few very good value places to stay for a night if you arrive late or need to leave early from Golden Buddha Beach. Please contact Myles to arrange this.
Can you tell me more about the boat trip to Koh Phra Thong?
There are no scheduled boat services to Koh Phra Thong. We must therefore co-ordinate your boat service with the village chief to meet your arrival time.
A longtail boat trip from Kuraburi Pier to Koh Phra Thong takes 90 minutes and costs 1700 baht (+7% Tax) for a group of 1-7 persons.
You will get your feet wet going from the boat to our beach, as there is no pier on our end! We suggest that you wear comfortable, very casual clothes with flip-flops or sandals that you can take off easily. In addition, you may get wet in the boat if the wind is strong, so please do not wear expensive clothes.
We do not travel after dark since it is not safe.
Most of the trip is sheltered by land and you will therefore not experience wavy open sea conditions.
How can I contact you in case my transfer has not arrived?
Please see our contact page for telephone numbers and email addresses of the resort. Please take a note of these numbers and contact details before you leave.
Back to Questions and Answers Menu
"Certificate of Excellence"
We have earned a Certificate of Excellence. Guests have shared their opinions on TripAdvisor and they have been impressed with the high quality of our resort.