activities at the resort
Thailand has long been a prime yoga destination and Golden Buddha Beach Resort has been hosting retreats for many years. We have the knowledge and experience to properly understand and cater to the needs of discerning yoga students and beginners alike. From the fresh seafood and wholesome vegetarian selections at our restaurant to the attentive support of our staff and instructors, guests at Golden Buddha can expect an affirming and unparalleled yoga experience.
For those not wishing to relax the days away, we offer a range of activities that can be enjoyed by all ages and fitness levels – snorkeling, kayaking, sailing, trekking, tours of the island and at the local village.
Yoga classes are twice daily at 8am and 4.30pm.
Hatha-based creative and often dynamic Vinyasa flow is offered for the morning yoga class. Afternoon classes include aspects of meditation and Pranayama (breathing techniques), and gentle yoga. Everyone is welcome as adjustments can be made to ensure enjoyment for all skill levels.
Scheduled yoga classes are opened to non-residents but guests at the resort have priority. Yoga classes are available to all ages from 12 years old.
Private classes or meditation practises can also be booked separately. Private sessions are beneficial to learn basic postures (asanas), and to improve alignment for your personal skill level especially if you wish to take your practice to a deeper level.
Golden Buddha offers first-class tropical massage and spa treatments at our dedicated spa sala located just off the beach, a short walk from the clubhouse.
THAI MASSAGE
Adapted from traditional Thai massage to energize the body and mind. This massage uses thumb and palm pressure to release muscular tension, pressure is applied to specific points in the body. The technique involves some stretching to relieve stiff muscles and joints. No oil is used.
THAI HERBAL MASSAGE
Steamed herbal pouches from Thailand (called luk prakhop) are pressed along the meridian points of the body providing comfort and pain relief. Using traditional Thai massage techniques, the hot compresses increase circulation and energy flow through the body for a truly healing experience. This treatment consists of a one-hour Thai massage, followed by 30 minutes herbal therapy.
AROMATHERAPY MASSAGE
Fragrant oils extracted from herbs, flowers and fruits are used to naturally enhance the benefits of this massage. Before each session begins, you can choose one of our unique oil blends to be used in your massage lotion.
HEAD CHAKRA MASSAGE
Clear your mind and relieve nervous tension with our stress-relieving massage. Using relaxing strokes and thumb pressure on various acupoints on the head, neck and shoulders, this massage stimulates and improves energy flow and blood circulation.
BACK TENSION RELIEVER
This massage has been specially created to relieve muscle tension and sooth away stiffness in the back. Using our exclusively blended spirit oil, palm strokes loosen knotted muscles, while thumb pressure is applied to the meridian lines on the back, from the base of the skull down to the lower back, to relieve tension.
FOOT MASSAGE
A number of reflex zones one the feet correspond to parts of the body, and by applying pressure to tight or "gritty" areas the corresponding body part will be stimulated and begin to heal itself. Reflexology is recommended for the improvement of general health, to relieve tension and to aid blood circulation.
Leaving the resort at 7am to benefit from the cooler hours, on this tour you can enjoy breakfast by a pond in the tall savannah grass.
Ko Phra Thong's savannah interior is a very interesting habitat – more reminiscent of Kenya than Thailand. As we head south keep an eye out for deer, birds and carnivorous plants. This unusual landscape mesmerizes our visitors with its mix of white sand, water brooks, clutches of Melaleuca trees and the long grass every where, leading one to expect giraffes or elephants to spring into sight at every corner. There is also a very good chance of spotting a lesser adjutant crane in the south of the island (one of only two colonies in Thailand).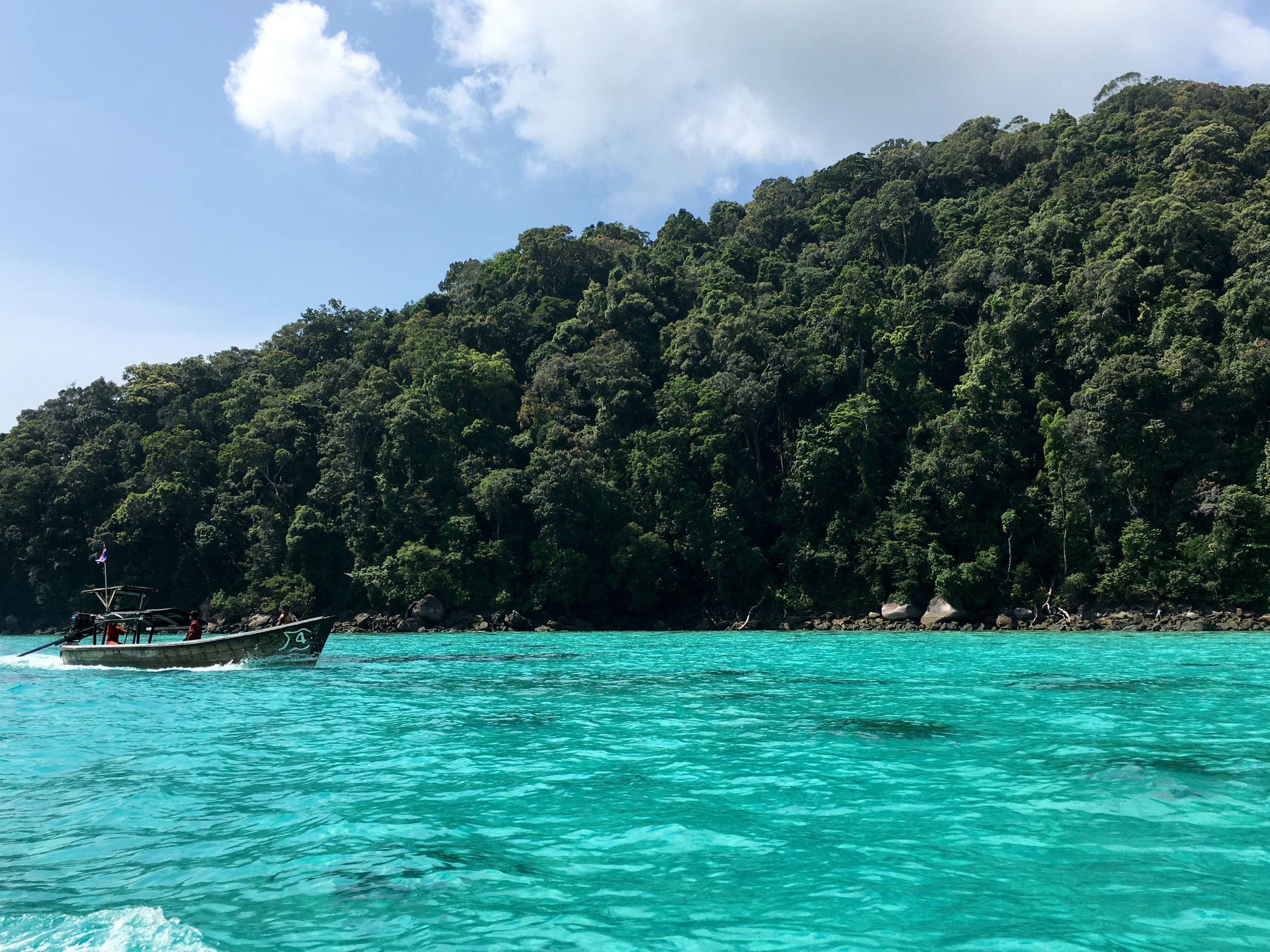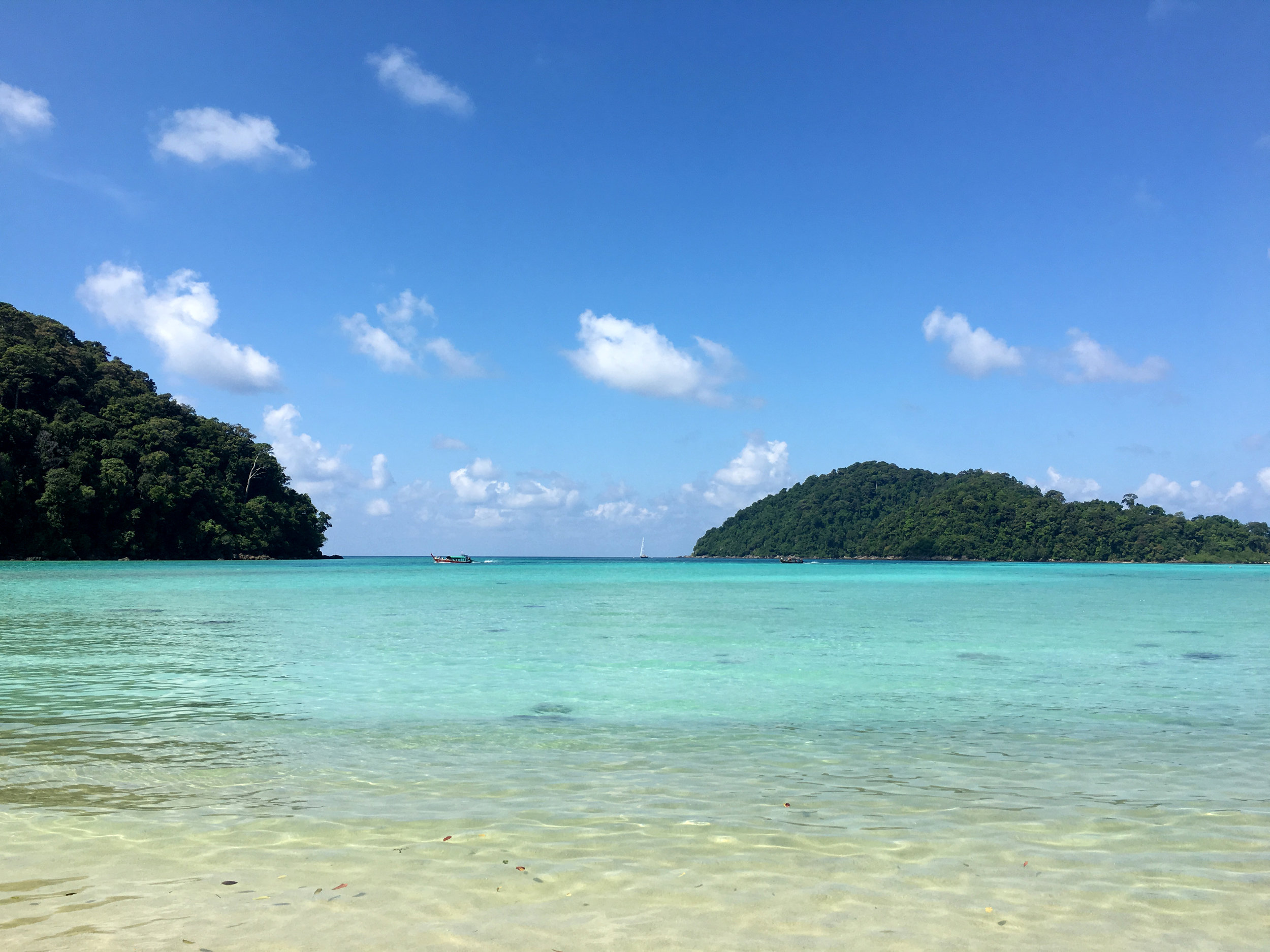 Thailand's Surin Islands remain one of the undiscovered gems of South East Asia. Designated as National Park, the group of five islands covers an area of 135 square kilometres and is located about 60 kilometres from the mainland, and 50 kilometres from Koh Phra Thong. The granite islands are covered in tropical evergreen forest, fringed by white sandy beaches and mangrove. There are many beautiful coral reefs, making the Surin Islands a paradise for snorkelling.
With lunch provided on the tour, you are invited to spend a whole day exploring the natural wonders surrounding these islands.
The trip to Ko Ra, across the bay from Golden Buddha Beach Resort, involves a 15-minute speed boat ride. Ko Ra's hilly rainforest terrain is in stark contrast to Ko Phra Thong's flat savannah.
The trek starts by ascending up into Koh Ra's permanent rainforest, then crosses the island in the shade of the rainforest canopy. Along the way your guide will point out the local wildlife including butterflies, frogs, spiders and a whole range of fascinating insects. The trek carries on to the other side of the forest and includes a stop over picnic at a secluded beach, where you can relax and cool off in the Andaman Sea.
The trek is suitable for people of all levels of fitness and can be taken at your pace. Walking boots are not required; however we recommend robust sandals, not flip-flops. This trip is usually conducted after breakfast, subject to tide times, and takes about four hours.
If you fancy a morning fishing, a local fishermen will pick you up at the bay in his long tail to take you to one of his favourite spots. You will be accompanied by our guide.
The trip involves a 40mn long tail ride to the reef. Once there, it is traditional line fishing on the side of the boat, baited with calamari, and a dip in the sea if it gets too hot. Popular with families and groups of friends, the trip usually lasts 3-4 hours and includes a cooler box of soft drinks.
Our chef will be happy to cook your catch in the evening according to your favourite recipe!
We have four kayaks, two singles and two doubles, and three paddle boards. There are nice trips to be had in the bay rowing across to the Pling islands in our bay, or exploring the klong at the back of the resort.
The beach around Golden Buddha stretches past the two small islands of Ko Pling up to Ko Ra. The larger of the two Ko Pling islands has some narrow slanting sea caves on its seaward side. Both islands have a small sheltered beach on the landward side. In between the islands is regenerating coral reef, nursery ground for a range of juvenile fish.
Running along the back of the resort is a khlong (a small tidal river in Thai), which has its mouth in the bay to the north of Golden Buddha Beach Resort. During high tide it is navigable and teeming with birdlife and potentially monkeys. This makes for a calming hour's glide within its winding tributary systems. When the tides are just right you are then able to float right into the khlong with the incoming current and back out again with the falling tide. Without having to paddle, you will be unnoticed and really have a chance to creep into the animal kingdom.
Some of the rarely seen aquatic and avian fauna, including the Lesser Adjutant, inhabit the saline khlongs of this area. Chinese Pond Herons, Little Egrets, and Open-billed Stalks are all to be sighted creeping around the twisted roots.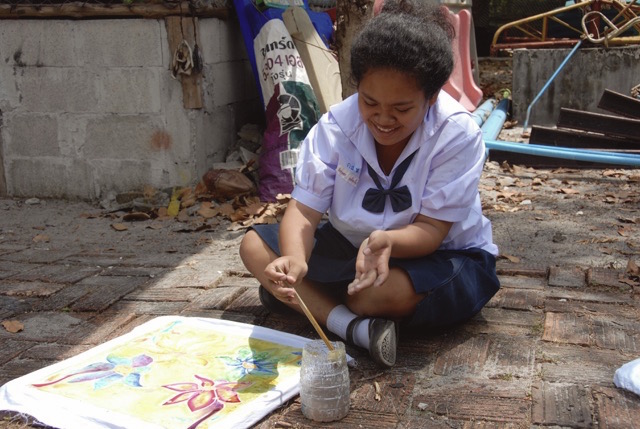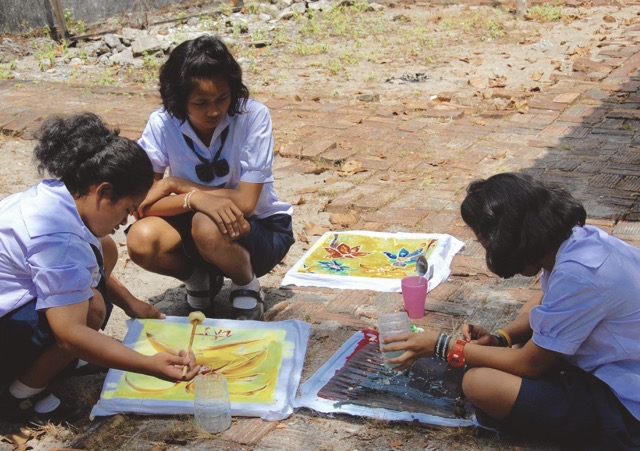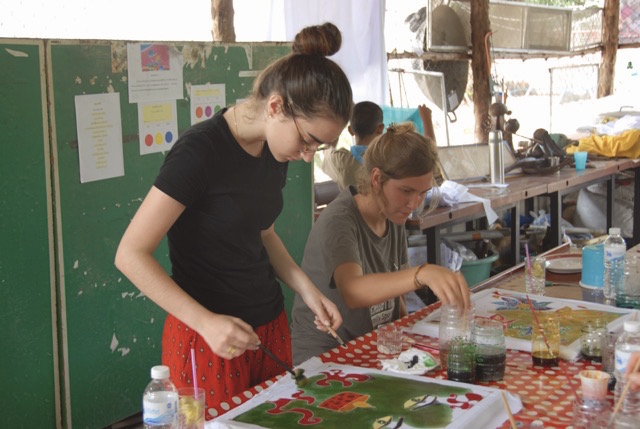 We have organised this activity in cooperation with the local school, where the teacher Khun Ae seconded by a few students, will teach you through the technique of Batik (tik in Indonesian means dot).
To make a batik, selected areas of the cloth are blocked out by brushing o drawing hot wax over them, and the cloth is then dyed. The parts covered in wa resist the dye and remain the original colour. This process of waxing and dyeing can be repeated to create more elaborate and colourful designs. After the fina dyeing the wax is removed and the cloth is ready for wearing or showing.
This is meant to be a fun day allowing English practise for the students, whils chatting and demonstrating a local skill. Batik is time consuming and it will take whole day to complete your own piece of cloth, interrupted only by lunch at th village homestay.
Have fun and learn the basics of Thai cooking with our kitchen team.
In two hours you will learn to prepare three classic dishes:
You will be making your own curry paste and prepare a green curry;
You will learn the the art of the pestle and mortar Thai style and make your veryown papaya salad;
The third dish is one of your choice, prawns in tamarind sauce, which is one o the most popular dishes at the resort, or a pad thai for instance.